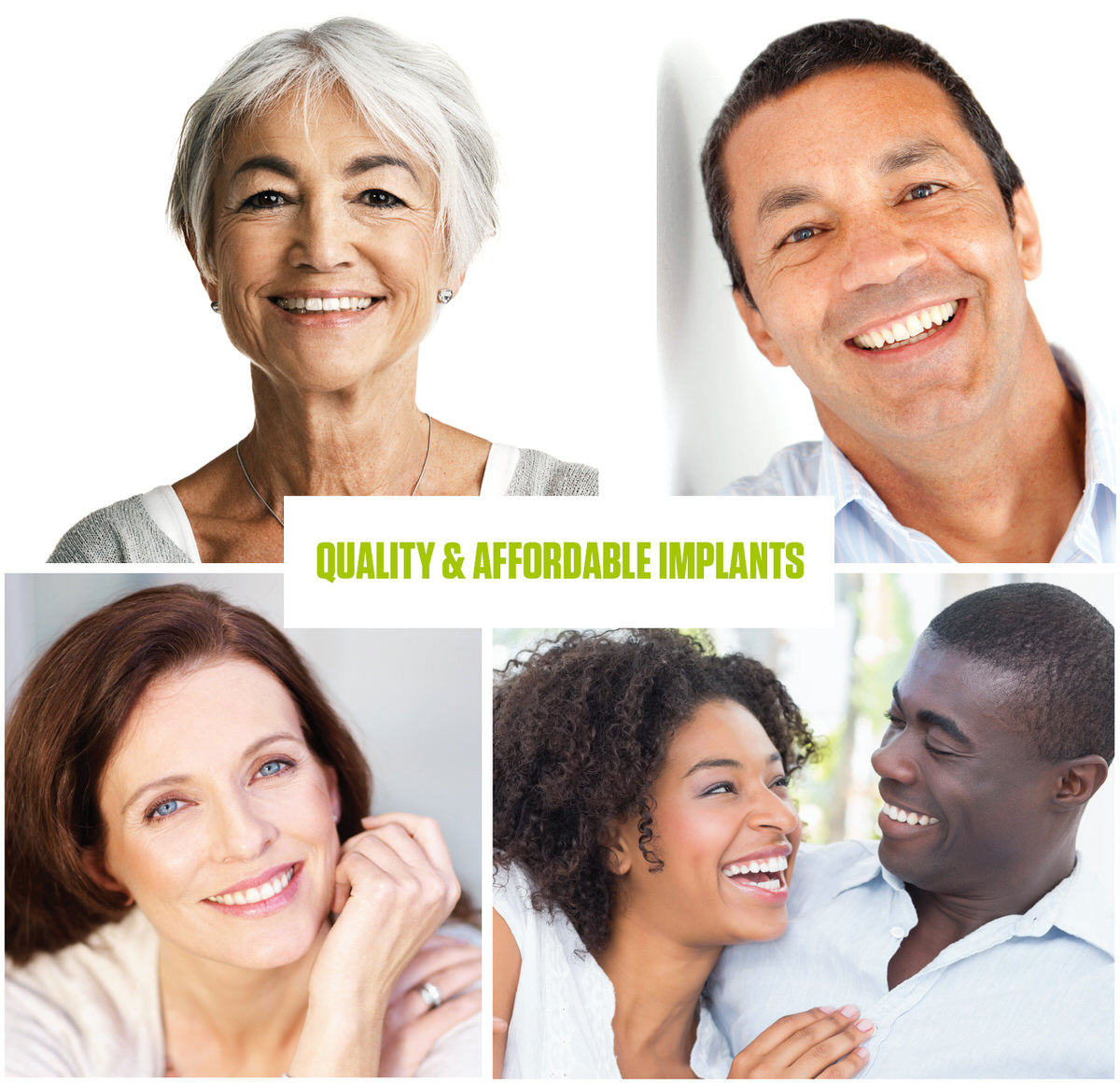 Implants
What is a dental implant?
A natural tooth consists of a root and a crown. Therefore, when you lose a tooth, you lose both.
Dental implants, made of medical grade titanium, are substitutes for the roots of missing teeth. Much like your natural tooth root, dental implants act as an anchor for a replacement tooth or Crown, or set of teeth.
The human body accepts titanium, a corrosion resistant metal that is completely biocompatible and stable.
Durability
Implants offer a reliable fixed tooth replacement. They restore not only the appearance of a natural tooth but also the feeling of safety and stability.
Prevention
Helps prevent future bone resorption. Implants help stop future bone resorption.
Patient Satisfaction
Patients find themselves with greater chewing capacity and denture stability for higher levels of satisfaction with their treatment.
Options
Single Tooth
A single tooth is replaced using an implant in place of the natural root. A crown, or replacement tooth, is attached to the implant within abutment. The surrounding teeth are not affected.
Crown plus Bridge
Multiple teeth are replaced with an implant supported bridge. Implants are placed to surround the area where teeth are missing. The implants are connected with a dental bridge that consists of a crown for each implant and a false tooth called a pontic that fills the space between them.
Over denture
A complete or partial denture supported by two (2) or more implants for improved stability and retention.
Full denture
A complete set of teeth are replaced with a fixed or removable denture that is attached to multiple implants. An implant supported denture is more comfortable and stable than a traditional denture and better preserved.
Am I a candidate?
Implants may be the right choice for anyone missing one or more teeth due to injury, disease or decay. They are especially practical for patients who can no longer wear removable dentures.
It is important that a patient has enough bone to support an implant. If you do not have enough bone, there are safe and effective ways to correct bone deficiency.
Your clinician will determine if you are a candidate for dental implants after a careful evaluation of your dental and medical history.
Please contact Pat at 843-656-1943.
Quality, Affordable Dentistry Since 1923
Use our contact form or call 800-827-1560