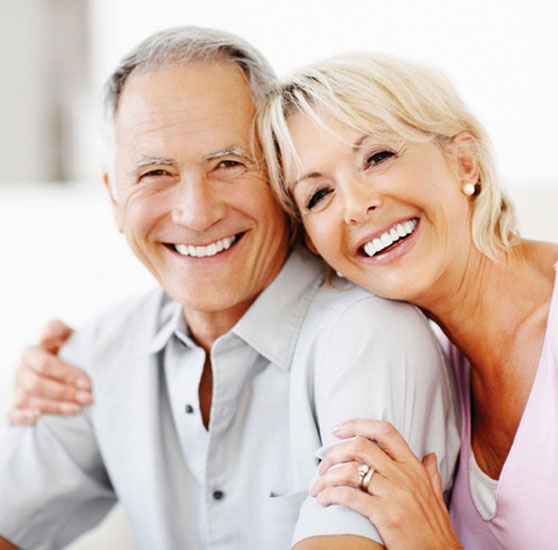 We eliminate the inconvenience
of multiple visits
DENTURES IN ONE DAY
PLEASE NOTE THAT X-RAYS ARE REQUIRED FOR ALL PATIENTS
At Sexton Dental Clinic, our patients come from all over the country and from every walk of life.  We know that one type of denture is not going to perfectly match the individual needs of every patient. That's why we give you options.  Our friendly, professional staff is trained to help you make the right decision for the type of denture that will give you a healthy, beautiful new smile that will fit your budget.  We offer a variety of denture types and services that will suit your individual needs.
The Basic Denture
The Basic Denture is our most affordable option.  It is made with our standard quality teeth with basic cosmetic features and is a functional, durable denture.  The Basic Denture is ideal for those on a budget who want quality, affordable dentures.
The Characterized Denture

The Characterized Denture is an excellent choice for a balance of cosmetic appearance and affordability.  This denture has a natural appearance and will give you a great smile at a great price.
The Signature Denture

The Signature Denture is our top-of-the-line denture.  It is made with our strongest, most natural looking teeth and is the most resistant to chipping and staining.  For a dazzling smile at a great price, the Signature Denture will give you a smile you can be proud of.
The Custom Try-in

The Custom Try-in or CTI service gives you the opportunity to view your denture while the teeth are set in a wax model.  This way you can see what your denture is going to look like before it is actually made, and you can make adjustments to the appearance.  Once you are satisfied with the look of the teeth, the denture will be processed. To be 100% sure that you will be pleased with the appearance of your denture, the CTI is the way to go.
Partials
Sexton Dental Clinic is happy to offer partial dentures to patients who have their natural teeth and only want to replace missing or bad teeth.  Like our dentures, we offer different types of partials:  The Basic Partial, The Characterized Partial, The Signature Partial, and the Cast Metal Partial.
The Cast Metal Partial
The Cast Metal Partial is our highest quality partial. It is fabricated with a cast metal frame which is customized to fit your mouth. With this partial however, the models are sent to a specialty lab where the custom framework is created. That framework is sent back to our lab where the teeth are mounted. This partial requires two visits, usually two to three weeks apart to complete the process.
Quality, Affordable Dentistry Since 1923
Use our contact form or call 800-827-1560